CONTENT MANAGEMENT SYSTEM
With our Content Management System (CMS) you can directly manage and adapt your site and its content with satisfaction to evolve your organization
A content management system (CMS) is essential, as it is a web application that makes the authoring and delivery of content easy. You no longer need to have separate software to update your site content, as you can easily make changes in website content with an Internet connection. The system facilitates users in building, arranging and maintaining content rich websites with efficiency. Streamlining the web publishing process, content management systems eliminate the need for costly site maintenance, empowering you to manage the content by yourself. The need for programming or HTML knowledge is nullified, as you can easily update content on the website without changing its design. Hence, a content management system is an ideal solution for businesses who wish to maintain their own websites.
Xplowiz Solutions can offer you full range of CMS service that can reduce the cost of controlling your business. We provides all of the administrative tools required for the maintenance of your website, and also simplifies your ability to update news, press releases, copy changes and price changes by yourself. We cater the top notch CMS solutions for WordPress, which enable you to manage your content in superior ways. Our CMS allows you to convert your data of static page to dynamic page, manage content via HTML, update the web site content and add graphics to content easily.
Why CMS is Important for Your Business?
Content Management
Increased Branding
Scalability and SEO Friendly
Improved Client Service
Mobile Optimization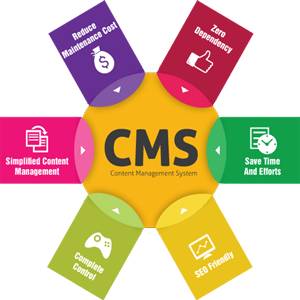 One of the technologies we influence to create an impressive CMS for your business
WordPress
WordPress is now becoming increasingly popular in the content management space. Based on PHP and MySQL, WordPress is used across millions of websites worldwide. With SEO and mobile friendly features, the platform is also supported by a large community of developers. WordPress is social media friendly and has recently launched its retina-ready admin feature and responsive modules.

As an open source technology, WordPress offers a cost-effective content management system for your website. The platform is easy to use and scalable. The wide availability of commercial and free plug-ins and the platform's built-in SEO and mobile friendly features vastly help reduce development efforts.
Features
Web-based publishing - allows individuals to use a set of pre-defined templates approved by the organization, as well as wizards and other tools to create or modify web content
Format management - allows documents including legacy electronic documents and scanned paper documents to be formatted into HTML or Portable Document Format (PDF) for the website
Versioning control - allows content to be updated to a newer version or restored to a previous version. It also tracks any changes made to files by individuals
Indexing - A CMS indexes all data within an organization
Search & Retrieval - Individuals can then search for data using keywords, which the CMS retrieves
Multi-Entry Editing - allows different users to work on different pages at the same time
Preview Feature - Users can preview the new page or article before it goes live on your website
Automatic archiving of news and events - As you add more news, our CMS system automatically displays the latest articles in key positions throughout your site
File management - Upload images, documents, flash files and other media to the server with easy to use controls
Benefits
Improved standards of published content - Ensures only relevant and up-to-date content is published through quality assured workflow procedures
Facilitate Search Engine Optimization - Along with our new Google Search Engine the CMS will facilitate search engine optimization to increase website traffic